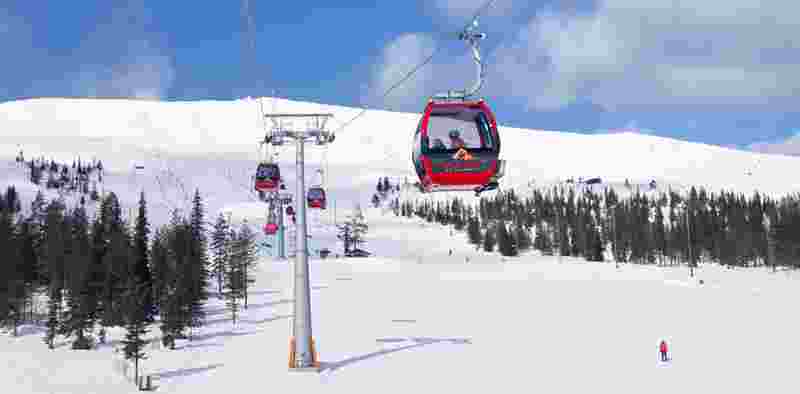 Ylläs is located in the municipality of Kolari in the western part of Lapland, about 150 km north of the Arctic Circle. Holiday Club's holiday cabins are located in Äkäslompolo.
Arriving to Ylläs
The distance by car from Helsinki to Äkäslompolo is about 960 km, which takes about 13 hours to drive. Travelling by train from Helsinki to Kolari takes approximately 13 hours, and the distance from Kolari's train station to Ylläs is about 40 km. By plane, you can fly to Kittliä, which is about 50 km from Äkäslompolo. The flight from Helsinki takes approximately 1 hour and 30 minutes.
Services
Cross-country skiing
Downhill skiing 3–5 km
Restaurant
Grocery store
Car rental 55 km
Contact info
Check-in/Check-out
Check-in
Check-out
Kuer
Kolarin Siepakka
Ylläksen Lomaviikot
Sat at 4 pm
Sat at 10 am
Kesänki II
Kesänki IV
Mokko
Muiro
Musko
Musko II
Musko IV
Ylläs-Viikko I
Sat at 5 pm
Sat at 11 am
Rautamajat
Sat at 6 pm
Sat at 11 am
If you arrive at a different time, please notify the staff at the Key Service office. A fee of €80 will be charged if you pick up the key between 10 p.m. and 8 a.m. and €60 for other times after the office's closing hours. The Key Service area has a waiting room and luggage room.
Address
Tunturintie 16 A 1
95970 Äkäslompolo
Call +358 400 190 217
Customer Service
Call +358 300 870 900
Mon–Fri 9 am to 4:30 pm
Price 0,60 €/min maximum price 3 € + local or mobile call charge. Waiting time is also charged.
customer.service@holidayclub.fi
Some
#holidayclubylläs
Key Service
Mon–Fri at 10 am to 4 pm
Sat at 10 a.m. to 9 p.m.
Closed on Sundays
Please, inform us, in case you bring your pet with you. We will charge an additional €35 of the pet at the time of check-in.
Ylläs Avain Oy
Tiina Walin-Jatkola
tel. +358 400 190 217
yllasavain@yllas.fi
Lost and found
Please contact to the key service, tel. +358 400 190 217
Ylläs Saaga Contacts
SaagaChalets
Holiday Club has 6 apartments in connection to Hotel Ylläs Saaga.
Check-in from 6 pm
Check-out by 11 am
Key service:
Lapland Hotels Saaga
Iso-Ylläksentie 42
95980 Ylläsjärvi
+358 (0) 16 323 600