Restaurants
Holiday Club Kuusamon Tropiikki has many restaurants that offer everything from tasty snacks to three-course sit-down dinners. Restaurant Mango's plentful lunch buffet from local ingredients is served from Monday to Saturday. Mini Market next to reception serving up both sweet and savoury light bites washed down with freshly brewed coffee. In the evening, O'Learys sports bar is the ideal venue for a relaxed drink.
O'Learys, a sports bar influenced by Boston, is a true Event Bar. You can watch Formula 1, football or ice-hockey from the multiple screens in the bar. You can also spend your evening by playing games. The menu offers a selection of burgers, ribs and other dishes from Boston. We also serve vegan meal, dishes from Kuusamo and kid's meal in O'Learys.
Come to enjoy Boston delicacies and relaxed atmosphere!
Opening hours
Daily from 3 pm to 10 pm (last orders from kitchen 9.30 p.m.)
Take away from 3 pm to 9.30 pm
Ask for more information +358 300 870967 (0,60 €/min maximum price 3 € + local or mobile call charge)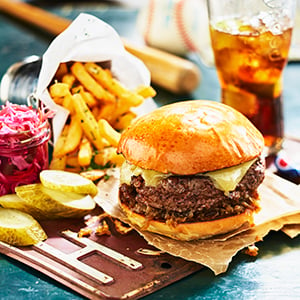 Restaurant Mango
At Restaurant Mango you will find delicious breakfast.
Opening hours
Breakfast served daily 7am to 10am, included in hotel room price
Breakfast for holiday house and Villas guests: 19 €, children 4–14 years 9,50 €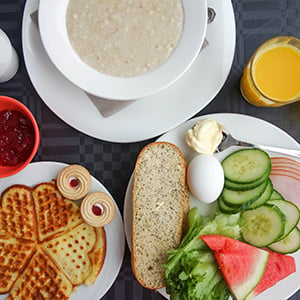 Gluten-free choices at our restaurants
There is a gluten free corner at breakfast in Kuusamon Tropiikki. You will find various gluten free breakfast foods such as waffles, bread and granola.
At O'Learys, you can order gluten-free hamburgers and other meals, please ask the waitress.
Also it is possible to get all the meals gluten-free from the other restaurants.
Meetings and celebrations in the restaurants
It is also possible to have company parties or other private events in our restaurants' permises. The location of the restaurants is central and the traffic communications are good in the area of Kuusamo and Ruka.
Please, request more information from our sales service and have an unforgettable event.
Sales service
tel. +358 (0) 300 870 923 (0,60 €/min maximum price 3 € + local or mobile call charge)
Contact info
Welcome to Holiday Club Kuusamon Tropiikki!
Reception is open 24/7
The key service locates at the reception
Left-luggage space at the reception


Check-in
Check-out
Hotel
at 3 pm
at 12 pm
Holiday houses
Lomatropiikki, Lomaparatiisi, Lampitropiikki, Rantatropiikki
at 4 pm
at 12 pm
Kuusamon Tähti
at 5 pm
at 10 am
Villas apartments
at 3 pm
at 12 pm
Address
Kylpyläntie 5
93600 Kuusamo
Parking
Parking in Kuusamo Tropic is free. Heating poles are also available, more information at the hotel reception. There are electric car charging points in the car park. Virta application: 4 x 22kW, free download with mobile application.
Customer Service
Call +358 300 870 900
Mon–Fri 9 am to 4:30 pm
Price 0,60 €/min maximum price 3 € + local or mobile call charge. Waiting time is also charged.
Kuusamon Tropiikki Reception 24 hours a day
Call +358 300 870 961
Price 0,60 €/min maximum price 3 € + local or mobile call charge. Waiting time is also charged.
Social Media
#kuusamontropiikki