Welcome to our restaurants
Up to and including 31st of January our restaurant will close by 6 pm and serving of alcoholic beverages will end at 5 pm.
Take away service is available as follows:
Restaurant Revontuli Wed-Sun 3 pm-6 pm.
Revontuli à la carte
The Revontuli à la carte restaurant offers delicacies from the Lapland region, made with local ingredients. The menu contains cuisine, such as reindeer, Arctic char and berries. You will certainly feel the real Lapland atmosphere by the beautiful view of the fell. Welcome to enjoy local delicacies!
Opening hours
The à la carte restaurant open Wed to Sun 3 pm to 6 pm, also take away.
Alcohol beverages served until 5pm.
The bar is open as the reception is.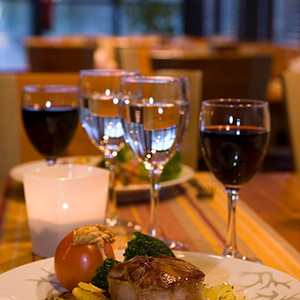 Conference facilities
The cabinet in the restaurant functions as a conference room for up to 40 persons. The room is equipped with a video projector, flip chart and overhead projector. The bright view that opens out to the fell landscape and well-functioning equipment guarantee a successful conference.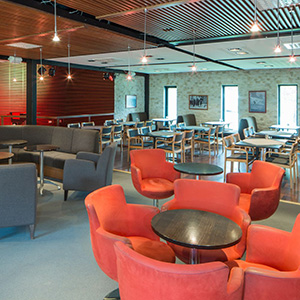 Contact info
Welcome to Holiday Club Salla!
Reception is open Mon–Sat 12–8 pm
The key service locates at the reception
Left-luggage space at the reception
| | | |
| --- | --- | --- |
| | Check-in | Check-out |
| Holiday houses | | |
| Kelorinne | at 4 pm | at 10 am |
| Sallantähti, Tunturitähti | at 5 pm | at 10 am |
| Sallas | at 6 pm | at 10 am |
| Villas apartments | at 4 pm | at 11 am |
Address
Revontulentie 2
98900 Salla
FINLAND
Customer Service
+358 300 870 900
Mon–Fri 9 am to 5 pm, Sat 9 am to 2 pm
0,49 €/min + local/mobile network payment, queuing is also chargeable
Salla Reception
+358 300 870 989
Mon–Sat from midday to 8 pm
0,49 €/min + local/mobile network payment, queuing is also chargeable
Social Media
#holidayclubsalla