Year-round holiday at Ellivuori
Holiday Club Ellivuori provides interesting activities and services year-round for all ages. Get to know the culture of Sastamala and Southwest Finland and organize a day trip to nearby cities to visit cultural sights, such as Tampere Art Museum. Enjoy the beautiful nature on a hike trip to Pirunvuori ("devil's mountain", where Artist Emil Danielsson's Kivilinna studio is located.
Summer activities
In summer, you can hike up to the top of Pirunvuori ("devil's mountain") where Artist Emil Danielsson's Kivilinna studio is located. The studio is a real sight to see and along your way there is an opportunity to enjoy coffee brewed on an open fire and sausage in a lean-to made of spruce branches. In Ellivuori you can also play frisbee golf. The sights in Tampere, such as the Särkänniemi adventure park and Moomin Valley on display at the Tampere Art Museum are just a 30-minute drive from Ellivuori. You can also go to listen to top concerts at the Tampere Hall and watch live theatre in any of the city's many theatres.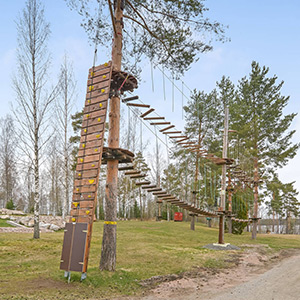 Winter activities
Two of Ski Ellivuori's six ski slopes, which are lit and covered in artificial snow, lead to the hotel. Four large T-bar lifts take as many as 5,000 visitors per hour above the magnificent landscape. Ellivuori also has illuminated trails for cross-country skiing. In winter, the Lakeside Golf Academy offers you the opportunity to touch up on your golfing skills before the season begins. Known as one of Finland's most beautiful golf courses, Lakeside Golf's 18+18-fairway course is just a little over 10 minutes away.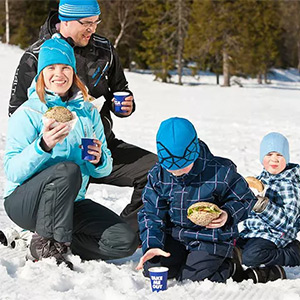 Contact info
Check-in/Check-out
Check-in Fri at 4 pm
Check-out Fri at midday
Vammalan Talonmies- ja Siivouspalvelu Oy is responsible for the key service. Visit from the B-staircase, 2nd floor. Arriving customers will be informed of the door code before the start of the holiday and the handing over of the keys will be arranged. Please provide telephone number and e-mail address when booking.
For more information, please contact talonmiespalvelu@tjsp.fi or tel. 035112355.
Welcome!
Address
Ellivuorentie 131
38130 Ellivuori, Vammala
Customer Service
Call +358 300 870 900
Mon–Fri 9 am to 4:30 pm
Price 0,60 €/min maximum price 3 € + local or mobile call charge. Waiting time is also charged.
customer.service@holidayclub.fi

Lost and found
Please contact to the key service.
Some
#holidayclubellivuori